Video First awarded with Techstart £25K POC Grant

We are thrilled at Video First to announce we were successful in our Techstart Ventures LLP grant application (POC Plus) with funding of £25K.
Public Beta Feedback
We had been successful with the previous Techstart Concept Grant application (£10K) back in April 2018. Since that grant we had done a private beta release in the summar of 2018 and our big mile stone was the public beta release in Jan 2019. The public beta release meant anyone could register and start using Video First to help with your user interface testing.
The reaction from these early adopters on the whole was positive but included some comments including:
JIRA

Integration – users were asking "why use this instead of

JIRA

"?
Slack Integration – users wanted to be notified of updates on Slack.
Trello – Video First is very much an internal tool – be great to be able to share outside of your team.
Chrome Plugin – screen recording is clunky and requires using separate screen recording software.
Armed with all this great feedback we applied to the Techstart Concept Plus Grant) which offered funding to the successful applicants of £25,000. The theme of the application was around integrations, improving workflow efficiency around screen recording and also external sharing. We knew being successful in this grant would be game changing.
The application was in 3 stages: -
Stage 1 – Grant Application
A detailed application was submitted which outlined the ideas we had around the product and how integrations could push the business forward.
Stage 2 – First Interview
We successfully passed the application form stage and were one of around thirty companies which get through to the first interview. This interview was in front of Techstart internal judges and we presented the problem of how delivering and testing user interfaces is so tough: -
On the left is a typical software company and the problems they can experience with testing user interfaces such as (a) designs of out sync, (b) lack of visibility of what is being tested, © staff leaving and (d) managing remote teams. These problems can create delays, cost overruns and even the wrong UI being delivered – ultimately resulting in angry customers or clients.
We then proposed our solution and how integrating with tools developers every day such as Jira, Slack, Trello, Chrome plugin etc could help.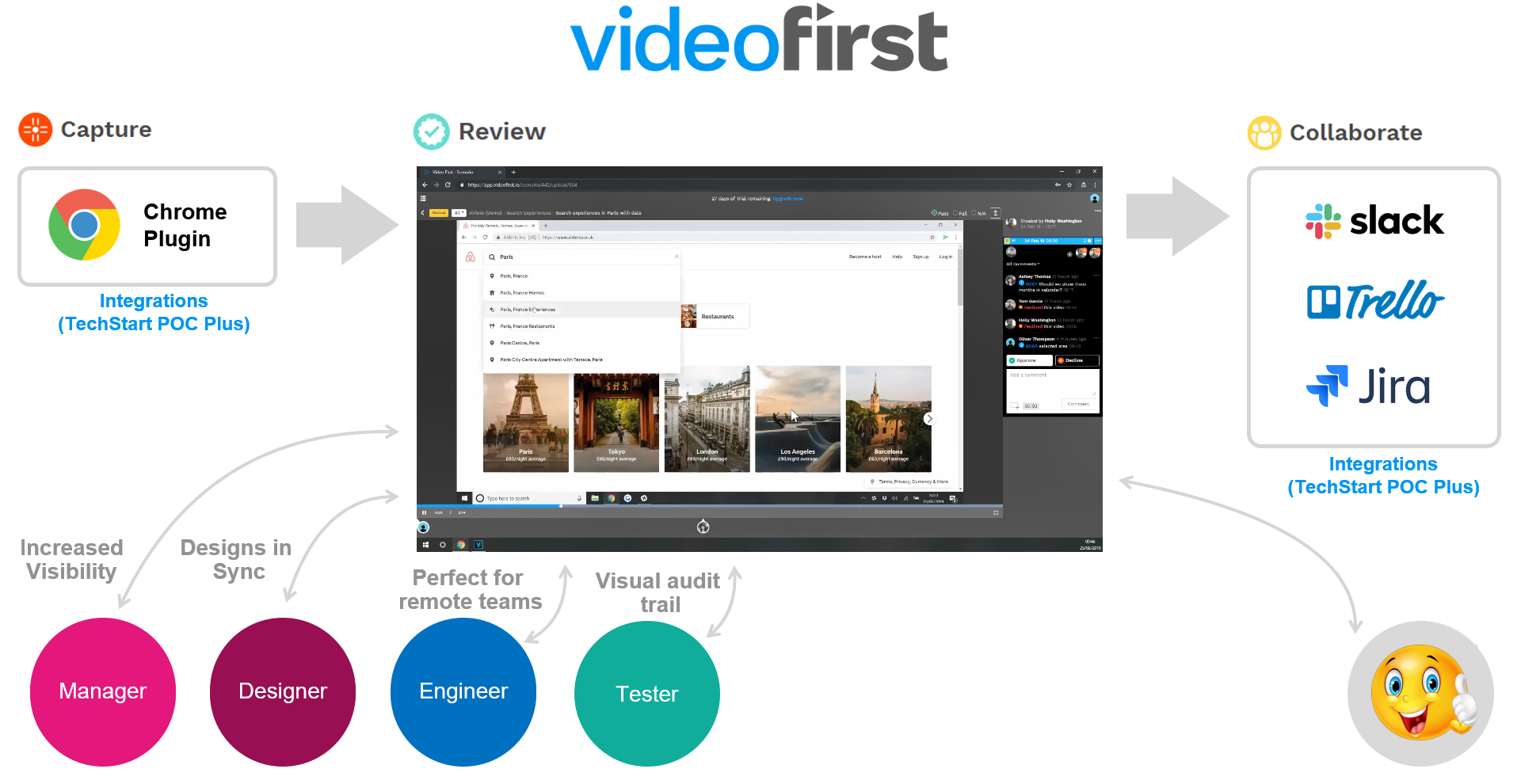 Stage 3 – Second Interview
We were then notified that we had got through to the second interview. Video First was now one of ten companies competing for the POC grant. This interview was also the final stage of the application and was very tough. External judges from established businesses were present and we were pressed hard on many aspects of the application, especially around how this grant would help commercialise the business.
After the second tough interview we were delighted when news finally came in that we had been successful!
Moving forward
We aim to have all of this work released over the next few months. If you like the sound of any of these integrations then please get in contact with us at [email protected] – watch this space!