Video First - Official Launch

We are thrilled to announce the official launch of Video First!
Breakfast at Ormeau Baths
To celebrate the official release of Video First we had a breakfast morning today (31st Jan 2020) at Ormeau Baths, Belfast. We kicked things off with some delicious coffee from Root and Branch. After catching up with everyone who turned up, the fantastic Peter Pito presented a talk titled "The path to value".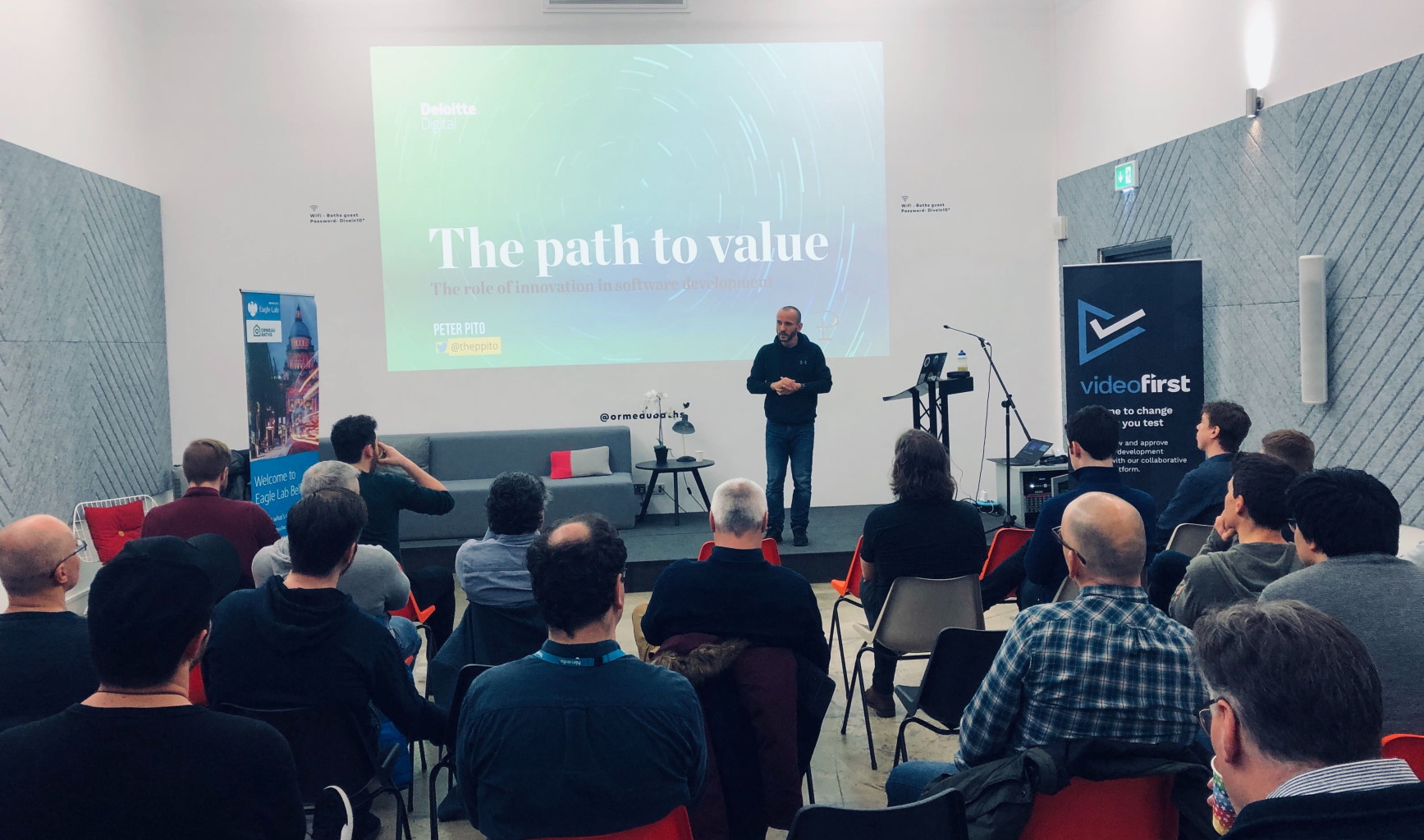 Peter Pito is a technology lead and software architect with over 20 years experience designing and delivering software products and is currently a director at Deloitte Digital. He also has a Medium blog which is well worth checking out.
After Peter's talk, I (Bob Marks) did a presentation on Video First, which introduced the problem we are trying the solve, the solution which helps solve it but the talk focused mostly on the journey so far. We finished things off with a quick live demo of Video First.
The Journey
The official launch of Video First is a massive milestone for us and over 2 years in the making! To understand how we got to this stage, it's worth looking back at the journey to this point.
2017
Things kicked off in the middle of 2017 when I was experiencing real pain when testing and delivering user interfaces: -
What was tested?
How was it tested?
Who tested it?
Lack of review / collaboration.
I thought to myself – is there a better way to test and deliver user interfaces? This is when I had the idea: -
The use of video when testing i.e. using video to (1) capture, (2) review and (3) collaborate videos of user interface tests. Think "YouTube for UI Testing!"
This is when development started on Video First.
2018
In January 2018, Video First gained a place (1 of 20 companies) on the Ignite Propel Accelerator (6 months of workshops + £15K funding).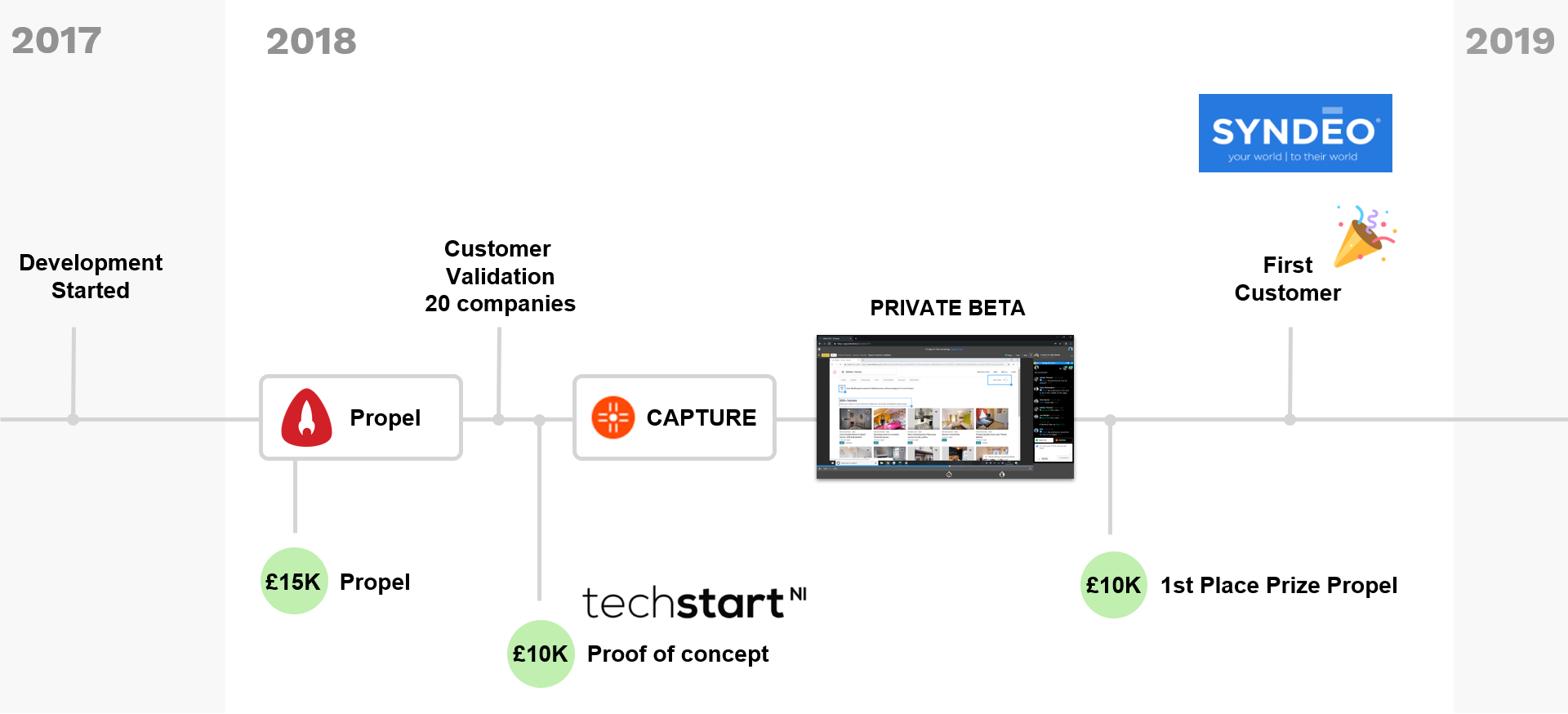 Being on the Propel accelerator was great and one of the first things the mentors instructed us to do was to validate the business idea by reaching out to 20 software companies based in Belfast. This was invaluable as we were able to crystalise exactly the problems these software companies currently had with their user interface testing.
We were then successful with an application to the TechStart Concept grant which provided £10K funding and shortly afterwards we did our first release Video First Capture (open source screen recorder).
We then released our Private Beta in the middle of 2018 and when the Propel accelerator finished, Video First won the top prize out of the 20 companies (£10K prize money). Shortly afterwards we acquired our first paying customer (Syndeo).
2019
In January 2019 a major milestone was our Public Beta Release. This enabled anyone in the world to visit Video First, sign up and use it to help with their user interface testing.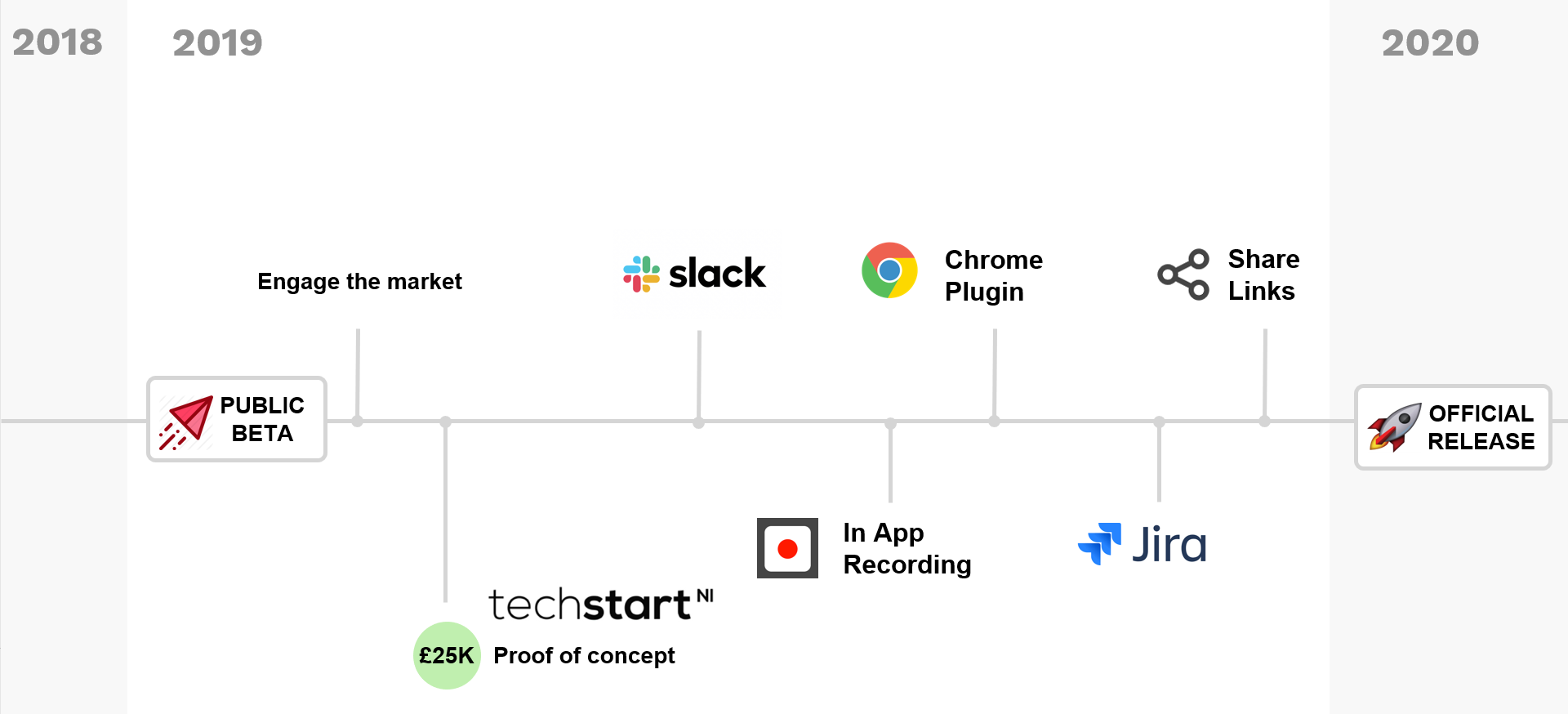 We engaged the market, got tons of valuable feedback (especially around integrations) and applied to the TechStart Concept Plus grant (£25K funding).
The TechStart application was successful and over the course of 2019 we delivered multiple Video First integrations including Slack, in-app recording, chrome plugin, Jira and the ability to share scenarios externally out of your team (e.g. to customers).
2020
By January 2020 we had finished all our integrations and developed additional smaller features (based on feedback from our beta customers).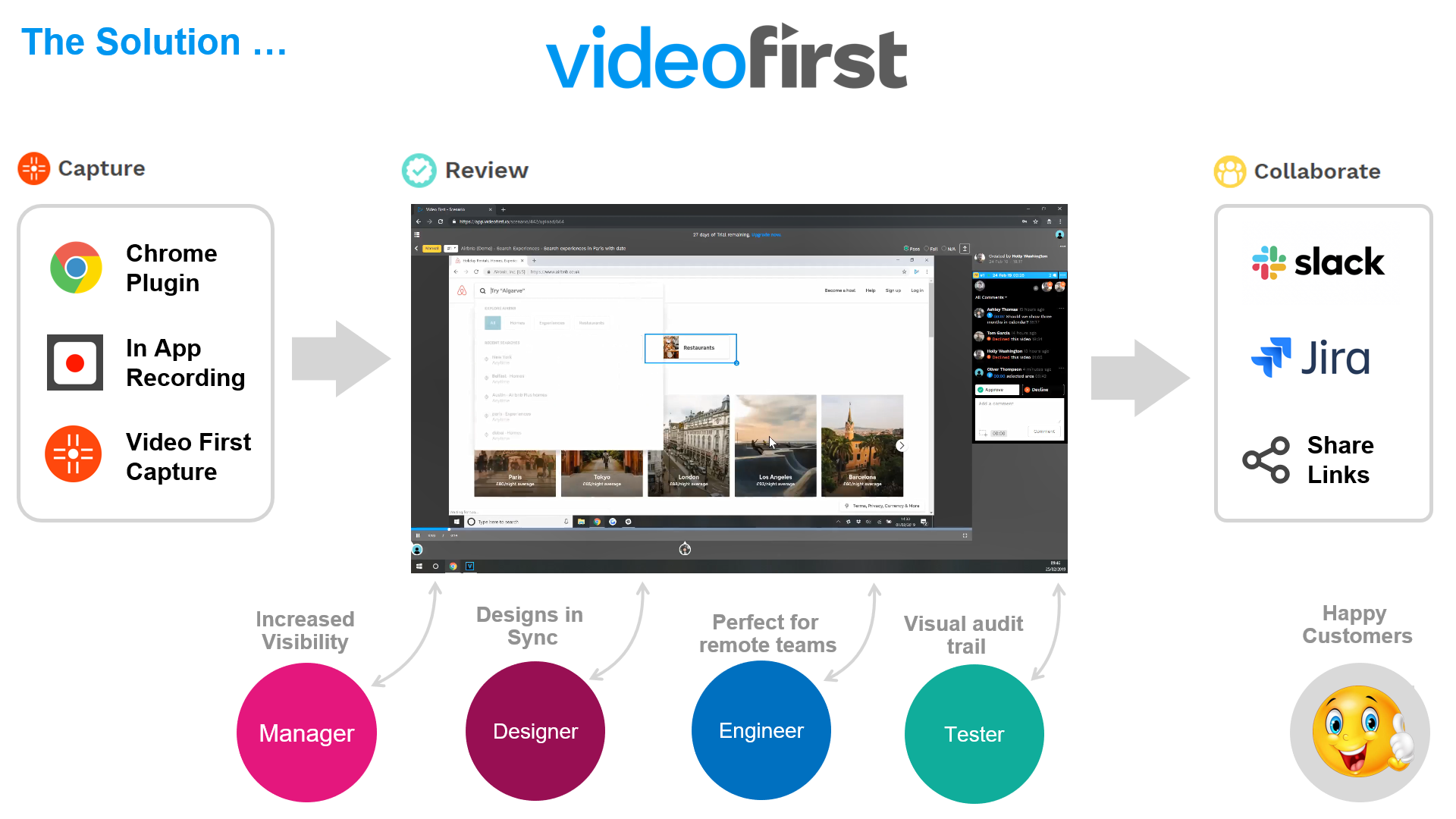 The value for software companies using Video First now include: -
Increased Visibility – managers can see exactly what has been tested and how (by simply playing a video of the test).
Designs in Sync – designers can log into Video First and ensure their designs are in sync with the functionality displayed in the test videos.
Perfect for Remote Teams – it doesn't matter if everyone works at home – Video First is a single repository for all your testing.
Visual Audit Trail – over time users can see how their user interface has evolved. Therefore, it is easy to see how it worked last month or 6 months ago. Also, new testers can play the test videos to help them understand how the user interface is tested.
If you are interested in learning more then click here to register your free account today!
Video First – it's time to change the way you test!