The "Video First for Jira" integration is now live! This was the third integration we delivered as part of the TechStart Concept Plus proof of concept grant. We are excited to share this integration and illustrate how it will improve your Jira workflow.
What is Video First?
Video First is an online collaboration tool which helps software companies improve the process of testing and delivering user interfaces. It provides the ability for teams to upload, share and review videos of their user interface tests in real-time.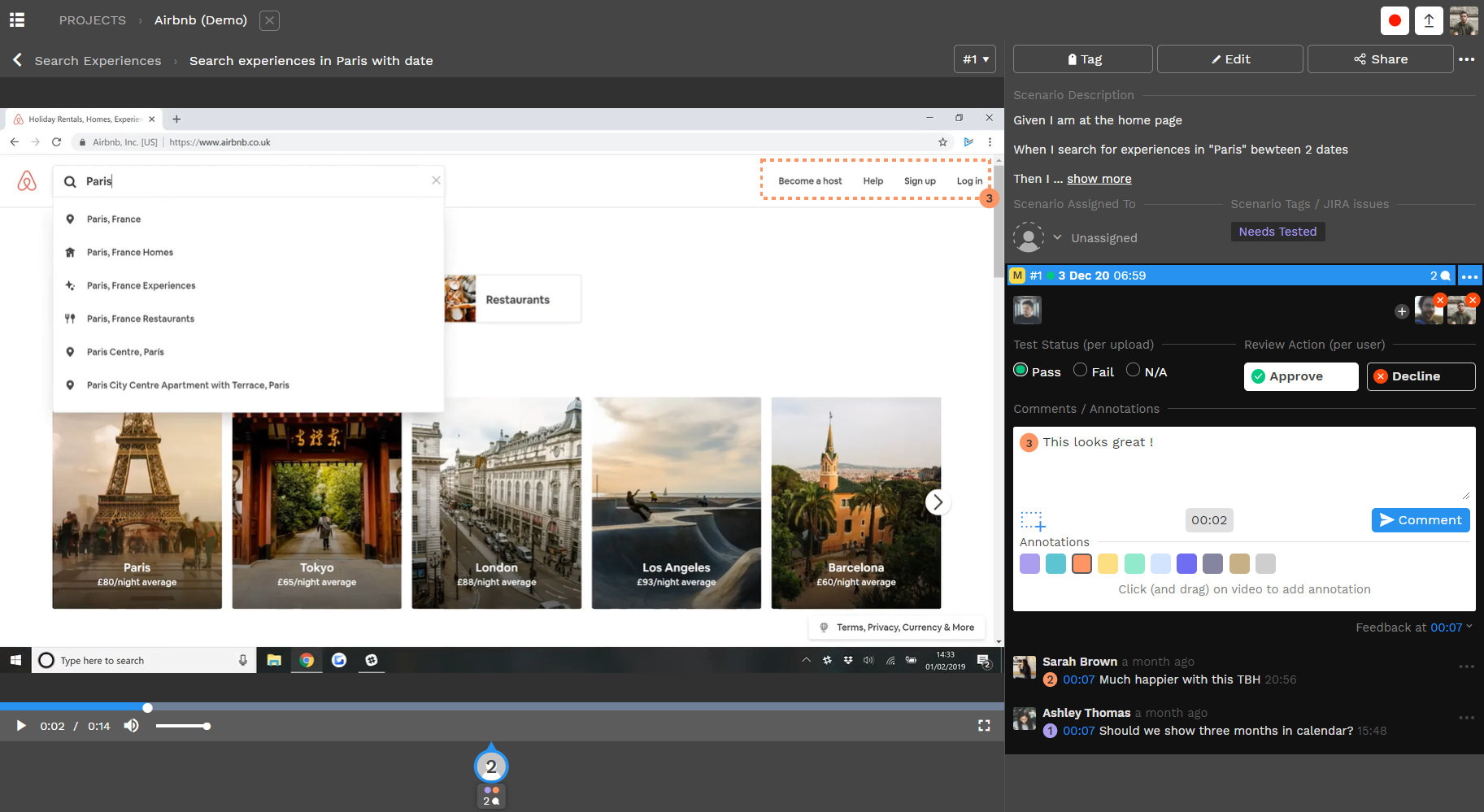 What is Atlassian Jira?
Atlassian Jira is a very popular software development tool which is used by software teams all over the world (from small start-ups to massive enterprises). It was originally a bug and issue tracker but has since evolved into a very powerful work management tool which supports requirements gathering to agile software development.
If Jira users require additional functionality then the Atlassian Marketplace is full of powerful integrations which can extend Jira functionality in various ways.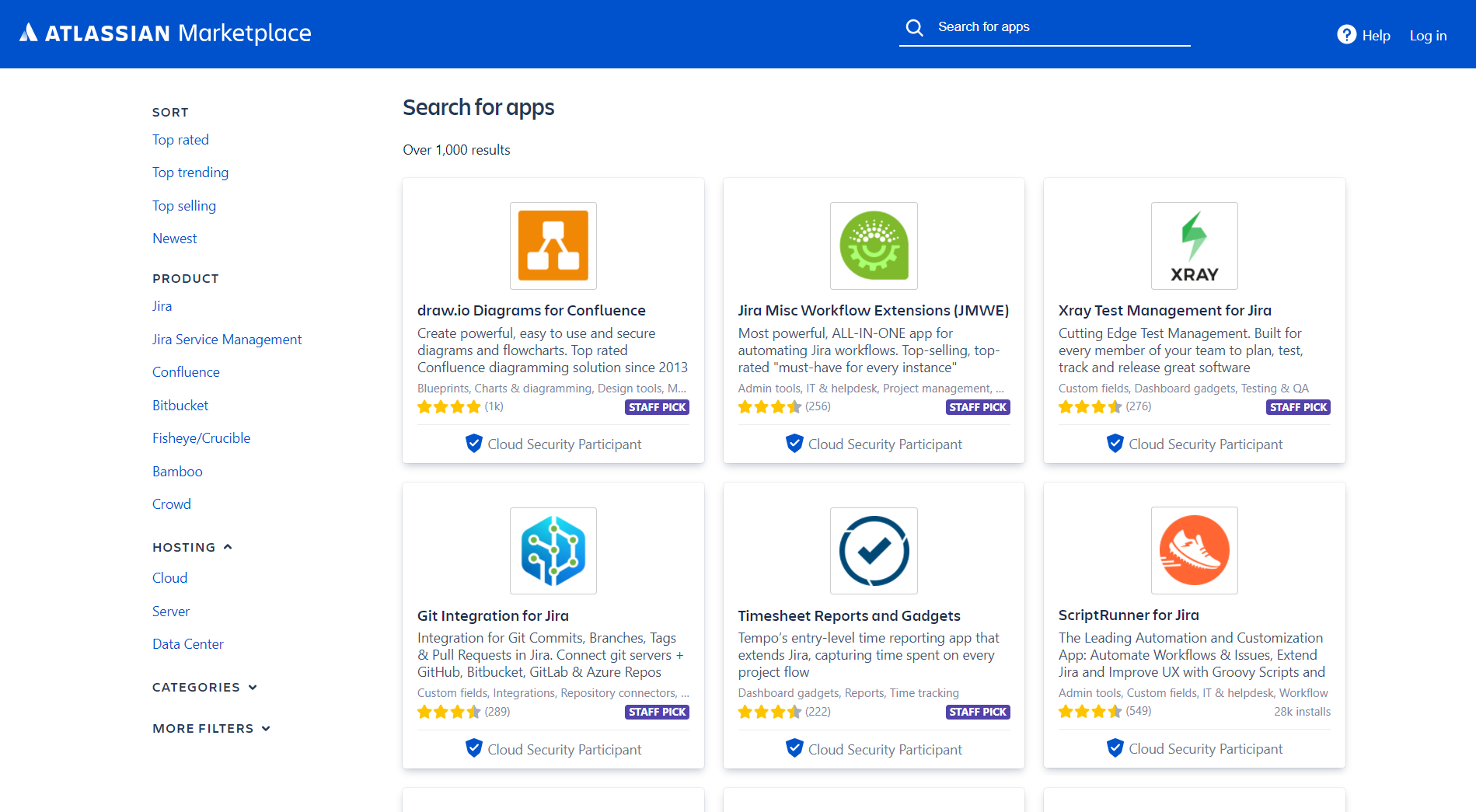 The "Video First for Jira" integration
One of the main pieces of feedback from our Public Beta was "Why should I use Video First instead of Jira?" This resulted in explaining that Video First was a user interface testing tool (which uses video to capture and play tests), whereas Jira is a much bigger tool for tracking development tasks (which could be user interface, backend, database, dev-ops etc).
It quickly became clear that a Video First integration with Jira could be very powerful and useful. We then submitted the idea as part of a grant application with other potential integrations. The application was successful so we worked hard for a few months and created "Video First for Jira".
Installing "Video First for Jira"
The best way to see this integration in action is to install it. If you don't have a Video First account then click here and sign up to your Free Forever plan (3 users + 500MB storage).
Installing the "Video First for Jira" integration can then done from your Jira account or from the Atlassian Marketplace.
If you are inside Video First, you can also click Settings (from a project) and see a list of supported integrations.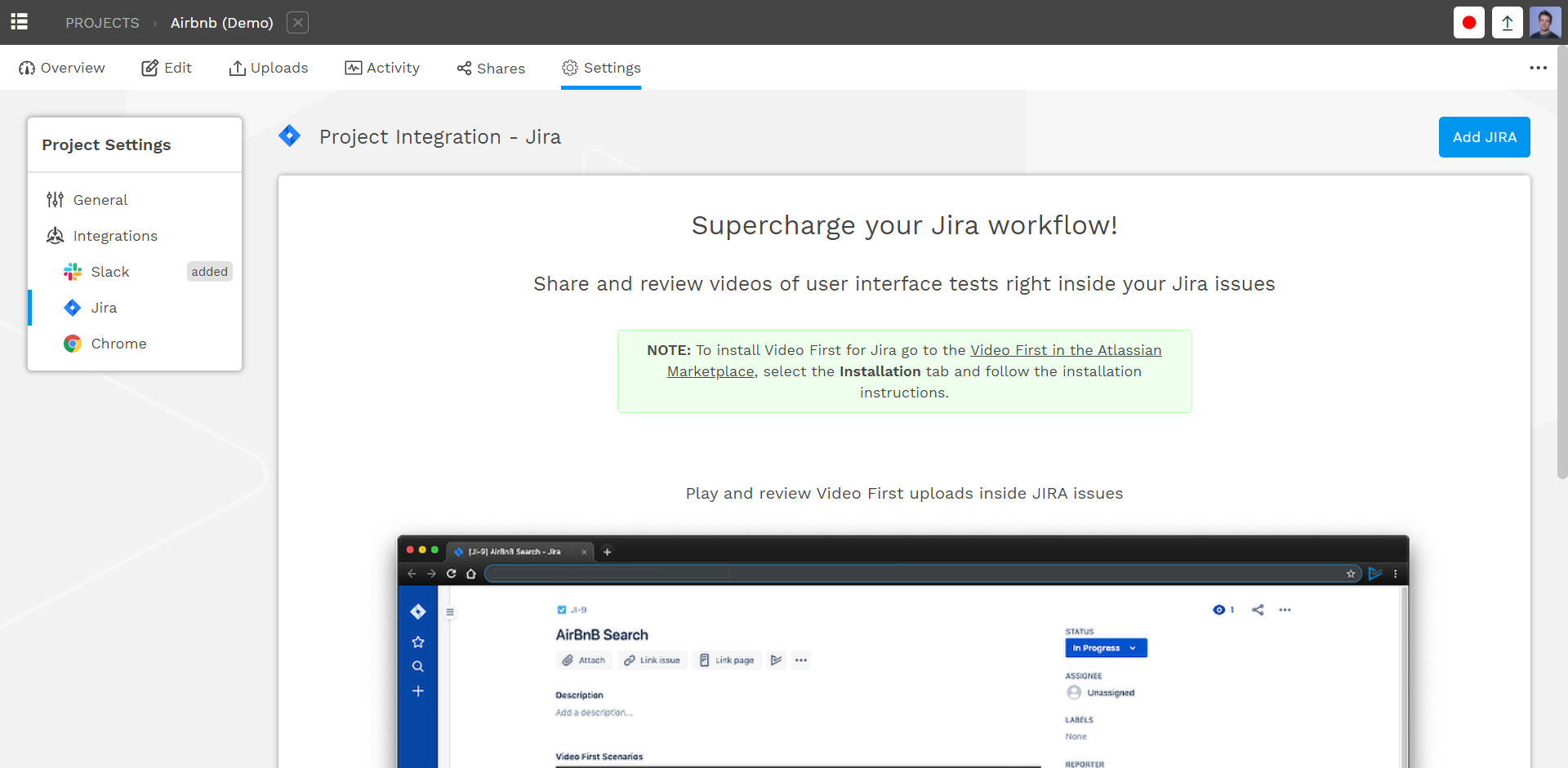 If you select the Jira tab will will be presented with information on the Jira integration. Clicking the Add Jira button will also take you to the "Video First for Jira" Atlassian marketplace page.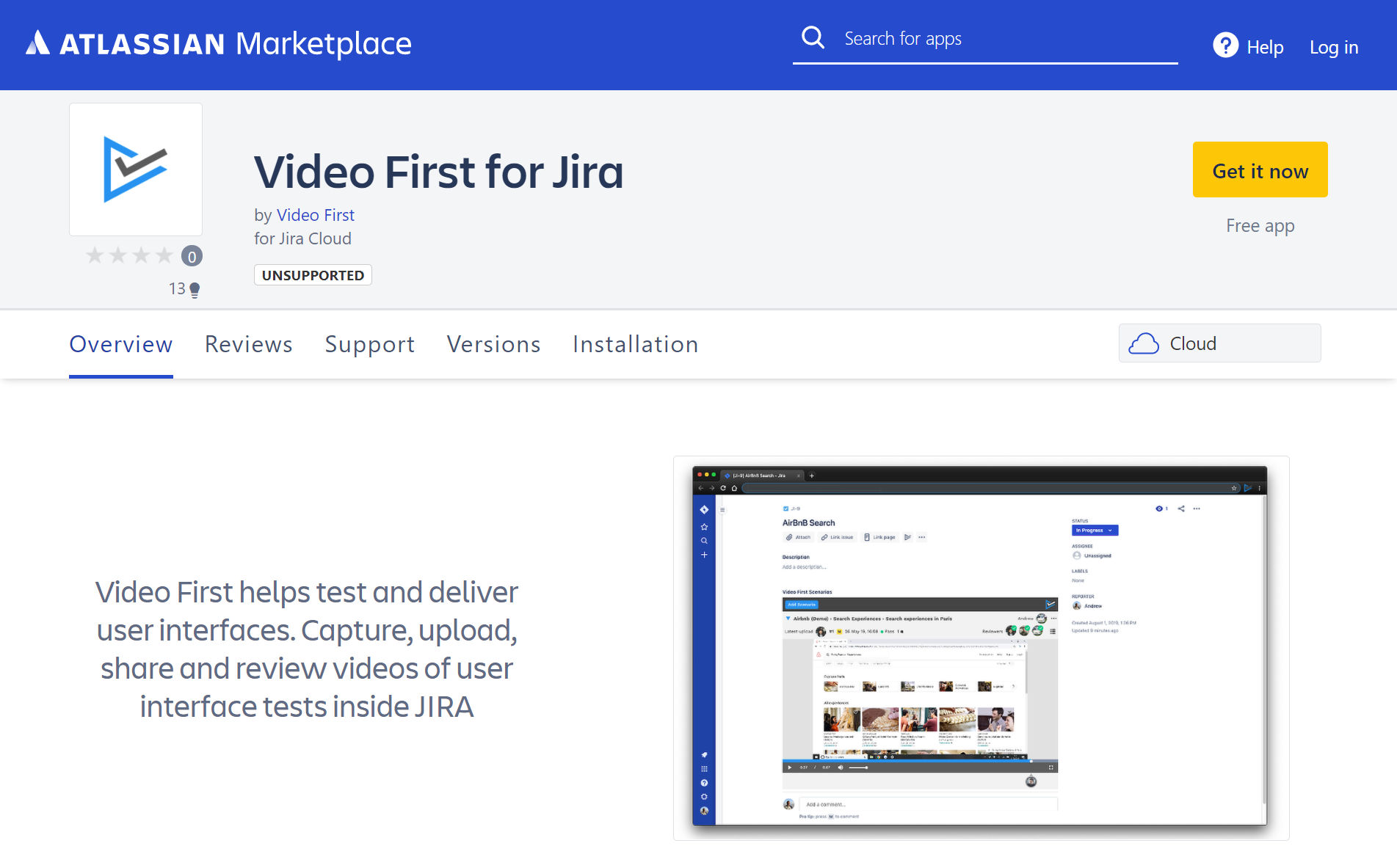 Now to install, simply click the Get it now button and follow the on-screen instructions.
Connecting Jira to Video First
Once installation has completed, the final step is to connect your Video First account to your Jira account.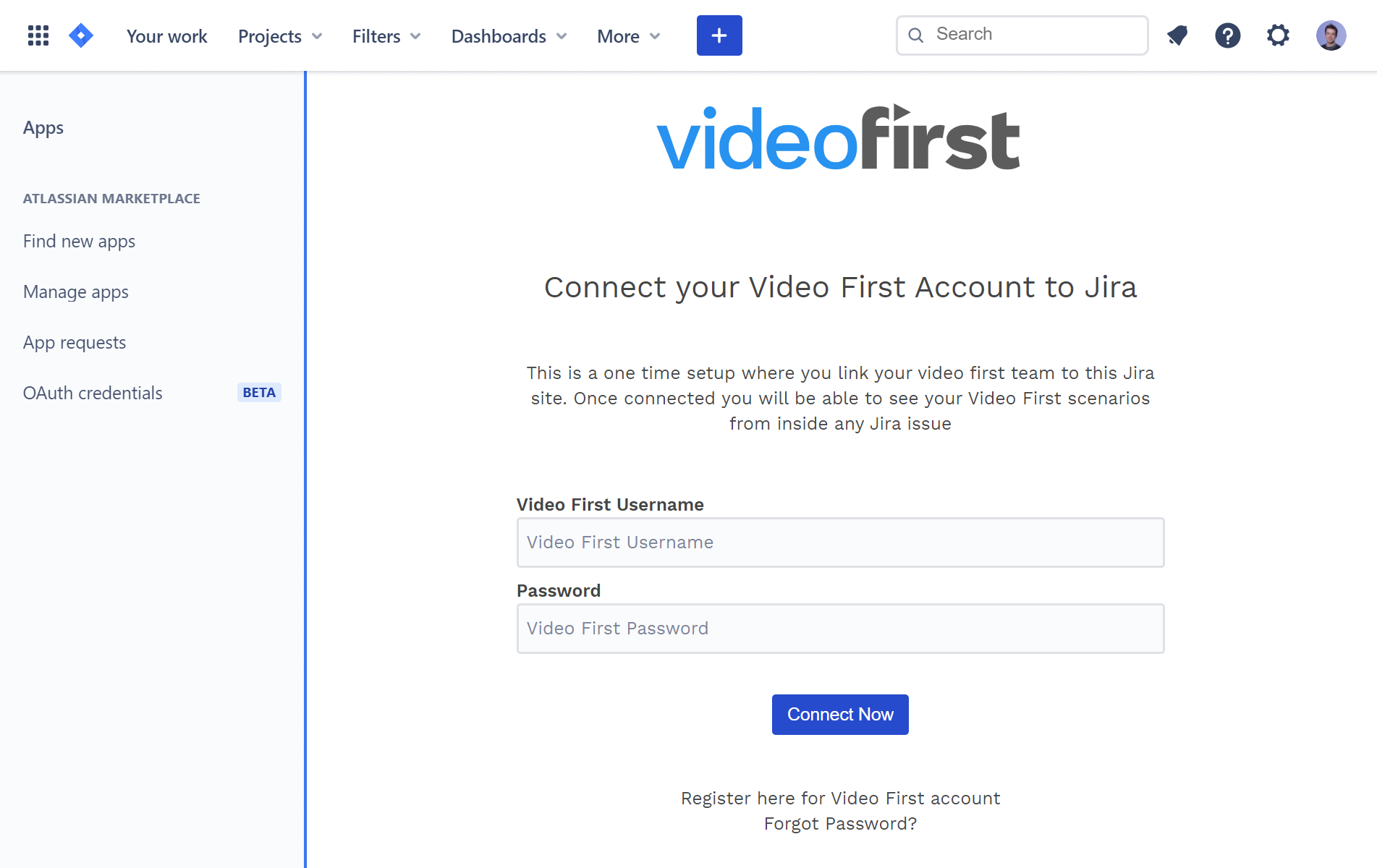 Once you enter your Video First username and password you are now ready to go!

Linking a Video First scenario to a Jira issue
If you open a Jira issue you will notice a new Video First Scenarios tab which displays Current no scenarios against issue. This is because no Video First scenarios are currently linked to this Jira issue.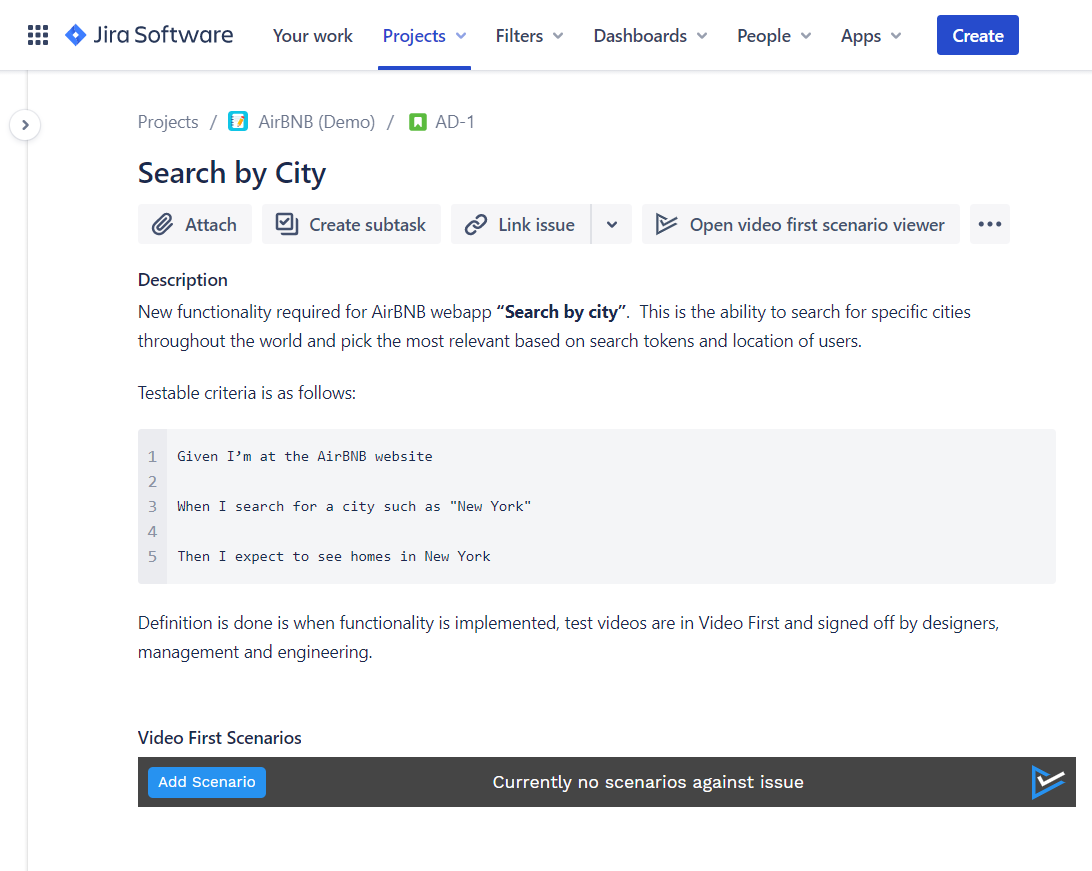 If you click the Blue Add Scenario button you will be presented with a menu with 3 levels e.g.
Project – select a Video First project e.g. Airbnb
Feature – select a Video First feature e.g. Search Homes
Scenario – select a Video First scenario e.g. Search Homes in New York
When you add a scenario then something like the following will be displayed: -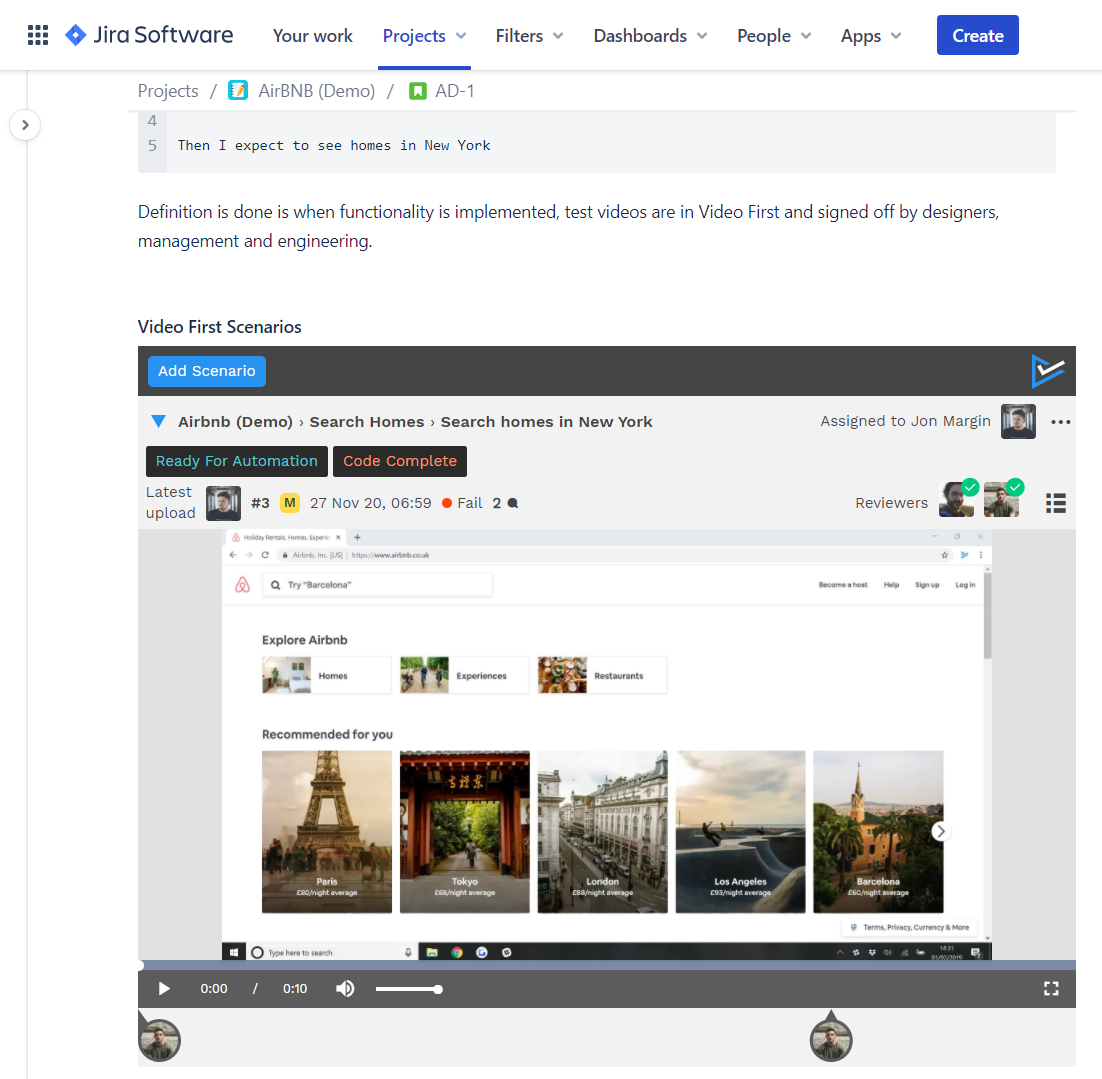 You can now link additional test scenarios if required. Now, everyone viewing this Jira issue can now see the latest test videos (and review status) against one or more linked Video First scenarios.
Conclusion
Linking Video First test scenarios to Jira issues can result in many benefits for your software team. These include: -
Visibility – everyone can view test videos right inside Jira issues – massively increasing visibility for the whole team.
Confidence – each test video can have a review status of Approve or Decline which gives confidence that the correct stakeholders have reviewed (and are happy) with the functionality.
Collaboration – all feedback on Video First is immediately and automatically reflected in Jira.
Streamlined Process – Jira users can get value from Video First without even having to log into Video First!
If you would like to learn more than email us at [email protected] – we would be delighted to talk to you.